Feng Shui Extravaganza 2005 road show begins in Kuala Lumpur

Lillian Too wowed a full capacity crowd of over 2500 people at the Mandarin Oriental hotel ballroom with feng shui updates and important tips to greet in the new lunar year of the Wood Rooster. It was a Sunday of high energy, with Lillian Too's Malaysian fans eagerly taking notes on all that needs to be done to maximise their luck in the coming new year.

Those who missed this amazingly enjoyable show can still catch Lillian at SUNTEC CITY in SINGAPORE on the 16th January or at the ARENA OF STARS in GENTING on the 23rd January.

Lillian's Extravaganza road show will also be reprised at the Los Angeles Airport Hilton on 5th & 6th March and in Melbourne, Australia in May. Watch out for times at this website.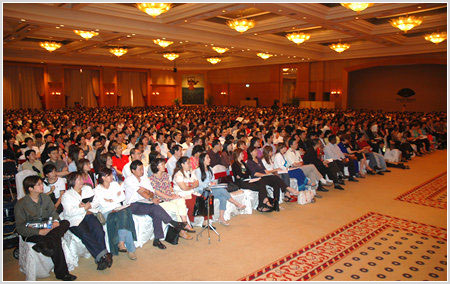 Sprinkling of quotes from the audience...

"Lillian is amazing, so much information through the day and so entertaining" - Karen Soo

"Simply sensational. What a great way to spend a Sunday. And a very fun way to learn about feng shui updates for the coming new year" - Puan Sri Siew Yong

"Lillian Too's energy levels are nothing short of amazing. How does she give such a show; holding this crowd mesmerized and still give so much substance?" - MK Sen

"Lillian Too's Extravaganza just gets better and better each year" - Emilee Lee

"Everyone should see her to realize just how generous she is in sharing her imense feng shui knowledge" - David Chelliah