Lillian Too returns to London!
March 2008 saw Lillian Too return to London to give her first feng shui seminar there in more than 5 years. The event was hosted by Viktorija Kovalenko of WOFS London, who owns and runs the World Of Feng Shui boutique in the popular Whiteleys shopping centre in Bayswater.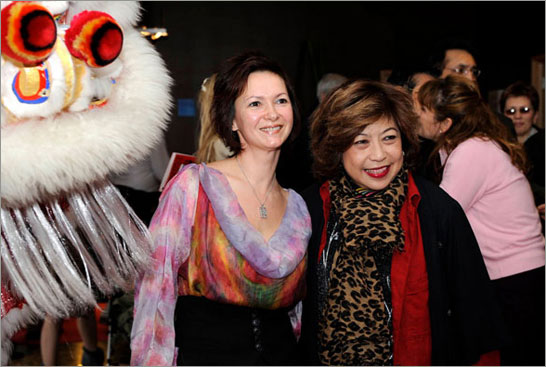 Lillian Too with Viktorija Kovalenko
At the Feng Shui Extravaganza Lillian addressed a full-house of former students, readers and many new faces that showed up at the London's upscale Energy Clinic, a very smart venue for holding such talks close to Liverpool Street station. Her students had flown in from all over Europe - Spain, Netherlands, Poland, France, Russia, Romania - some came from as far away as Brazil and Philippines, Ireland and Florida USA! There was a noticeable air of "reunion" at the event.
Lillian used the opportunity to stress the need to make annual updates to one's feng shui explaining how necessary this is to ensure that one does not get hurt by the year's afflictions. Her talk was based on the annual feng shui chart (part of flying star school) as well as on the four pillars chart of the year (based on feng shui astrology) and also the personal animal signs of practitioners. She addressed the need to suppress annual afflictions and activate the annual auspicious stars in great detail.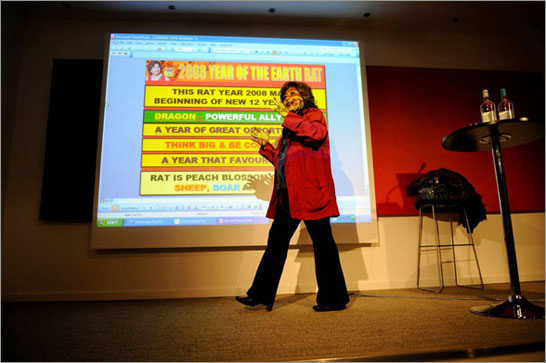 Following Chinese tradition, a friendly colourful lion entertained the crowd as they poured in, then ignited the event off with a bang, wolfing down the lucky cabbage on stage before giving the audience the chance to 'pat' it for good luck. Lillian advised them to "touch the lion for good luck".

The crowd was mesmerized by Lillian's way of presenting feng shui. Many came up to her effusive with praise and the consensus of old students was how happy they were to return to get "more of Lillian". Many expressed their satisfaction at her down to earth presentation.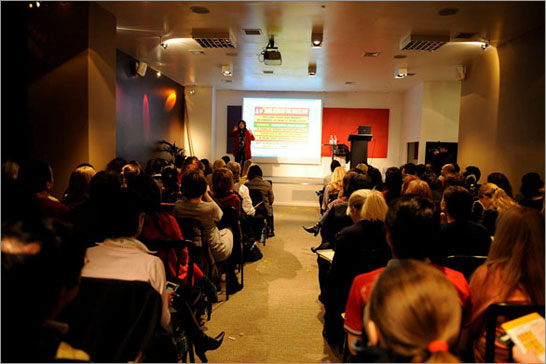 "She is as usual so to the point," a student who flew in from Poland said enthusiastically, "she is full of substance, and so extremely entertaining."
Another said, "She is also so much heart. I loved how she addressed the question, 'why do bad things happen to good people." It really showed me that she is very intense and sincere about her work in feng shui. It made me feel really good traveling all that way from Sweden to spend that day attending her talk. It was definitely worth it."

While feng shui cures and enhancers were available for sale in the hall adjacent to the seminar room, these ran out pretty quickly, but Lillian advised her audience to snap pictures of the lucky symbols off her powerpoint slides. Said Lillian, "The real thing is of course better, but if you can't get your hands on the real thing, a photograph is the next best substitute."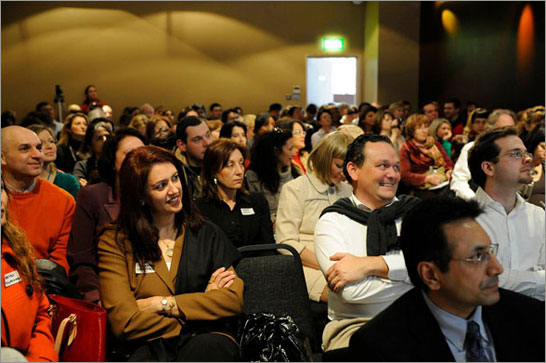 The full day session ended after fun-filled, educational morning and afternoon sessions which sandwiched a lunch break and book-signing session. At the end Lillian spent an hour answering questions to clarify, expand and explain the various aspects of feng shui practice.

Later she confided how much she had enjoyed connecting again one on one with old students, many of whom had become dear friends. She also enjoyed meeting new enthusiasts who had discovered her through her books. Amongst them was acclaimed Brazilian photographer Vania Reichert who will be entering a portrait shot of Lillian taken at the event for the contest run by the National Portrait Gallery in London. Another talented personality was a Holland-based Horse Whisperer Maria Dalmeyer, who can communicate with animals in their own language.

And of course there was the irrepressible Dawn Gibbons, MBE and patron of the UK Feng Shui Society. Dawn hosted an after-event dinner for Lillian at the posh Boxwood Café at The Berkeley, famous for its celebrity chef Gordon Ramsay and for its price. Dawn invited some very stimulating luminaries of the UK Feng Shui scene that included long time practitioner Jon Sandifer and several others, so feng shui as an evolving practice continued to be discussed long after the Lillian Too's Extravaganza 2008 tour wrapped up.

WOFS London is located at :
Whiteleys Shopping Centre, Unit 113,
151 Queensway, London W2 4YH.
Tel: +44-020-70340388
Fax: +44-020-70340388
E-mail: london@worldoffengshui.com