The most fun and exciting moments of my job come around about two to three times a year, when we host students who enrol for Lillian Too's Master Practitioner Course in Feng Shui. Each class brings an exciting mix of people and it is just an absolute pleasure getting to know each of them! It never ceases to amaze me how these individuals come from such diverse backgrounds and cultures, and are able to "click" with each other so quickly!

This year, our spring MPC intake was completely oversubscribed, with students hailing from 20 countries – Mexico, Russia, Indonesia, Thailand, Malaysia, Taiwan, Tahiti, USA, Germany, Slovakia, Colombia, Vietnam, Netherlands, Saudi Arabia, India, Canada, United Kingdom, Singapore, Kazakhstan and Ecuador.

Each shares a unique story of how they discovered Lillian and what compelled them to make their way here. But however different each may be or whatever brought them here, they all have one thing in common: a deep and serious desire to gain new knowledge and transform their lives.

Lillian Too's Master Practitioners Course in Feng Shui is the only feng shui program in the world that imparts such a tremendous amount of feng shui knowledge in one week! When you embark on a feng shui program with Lillian, you can expect to come out looking at the world with a fresh new perspective, armed with new skills and concepts that you can apply in your home straight away. The curriculum is rigorous and intense; but Lillian has designed the course to make it easy for anyone, regardless of their backgrounds, to pick up this living skill in no time!

By the end of the week, students are completely blown away by the amount of feng shui they have learnt from Lillian! In this issue, we introduce you to all the glowing faces of MPC April's intake and what each of them had to say about coming to learn feng shui from Lillian Too!

Meet
Emily Chia
our sweet Taiwanese student, who develops new business markets for her family's lighting business. "I have always been interested in feng shui but really confused with the complexities of classical feng shui. I've read Lillian's books that were translated into Chinese – but felt I needed to come here to hear her teach personally." For Emily, her favourite part of the course was "listening to all the personal experiences and true stories told by Lillian. It really helped me understand all the formulas better." At the end of the course, Emily says "Thank you so much for sharing such a lot of information with us in the class! I'm now interested in Paht Chee! And I'm thinking seriously of changing the spelling of my name to Emillee to get the double letters…" haha!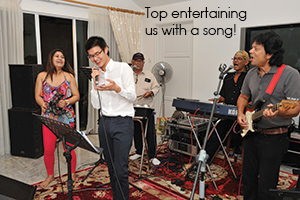 From Thailand, we have the delightful
Chayoot Kietkraipob
, who likes us to call him "Top". Top runs his family's garment factory business in Thailand and came to learn feng shui so that he could transform his life. "I feel that luck is something humans can manipulate. I used to be very unlucky through school, but a friend of mine told me about feng shui and how it changed his life. I want to learn the secrets of manipulating luck!" By the end of the class, here is what he had to say, "I'm so inspired by the amazing stories of how feng shui can change a person's life just by moving furniture and sitting towards their good direction. This is so simple and does not require a lot of work at all. Something so powerful can be also be so easy – thank you so much for this knowledge."

Dato Dr Edmund Lee
, who lives in Malaysia is one our most renowned "shoe doctors" who specialises in curing foot ailments without the use of surgery. Feng shui is his hobby and he has always admired Lillian from afar. Dato Dr Edmund Lee says, "When I enrolled in this course, I was expecting to learn only some very basic feng shui! But after the first two days I realised that this course actually has a lot of substance to offer! I was really impressed at Lillian's breadth of knowledge and the way she taught the class."

Dr Tan Niap Ming
, Lillian's personal eye doctor and one of Malaysia's leading eye specialists has been her closest Dharma friend for some years now. Having heard us talking about feng shui for quite a few years, she joined the MPC to broaden her knowledge on feng shui. "All this time I thought feng shui was about rivers and shapes of buildings. I didn't realise that feng shui could be so technical. Now I can understand all these 'stars' that Lillian talk about so often! But more than that, I also liked learning about good and bad feng shui layouts in the house. Now I have to figure out what to do about that bathroom in my Southwest!"

Vannie Luu
, a Vietnamese cosmetics business lady living in the USA has been reading Lillian's books and using our cures for over five years now. "I've always wanted to come here and learn from Lillian directly! I've read her books and they are so easy to follow. I felt I needed to learn more and that's why I'm here". For Vannie, learning to use the Lo Pan was the highlight of the class. "I didn't realise the Lo Pan could contain such a lot of information. What a powerful feng shui tool! It really makes it easy to practice feng shui." Vannie was particularly appreciative of our team at WOFS. "All your staff have been great and friendly. The break lady is super sweet, always preparing the best snacks for us. And your sales team are just wonderful! Just a special thank you to your team and organisation. Just the best!"

Nge Chi Nam
, business strategy consultant also from Vietnam came to learn from Lillian after his coffee shop business was affected by bad feng shui. "My coffee shop had a lot of problems and I found out it was because the feng shui was wrong. So I did a lot of research and I found that Grandmaster Lillian is the best feng shui master in the world. That's why I came to attend this class! I want to say thank you to Grandmaster Lillian Too as the course was so interesting, and very necessary for my life. I gained so much more knowledge and I feel so much better after being here. I had the most wonderful time! Thank you!"

This beautiful Curacao lady
Nicky Schobbe
hails from the Netherlands (but is temporarily residing in Malaysia). She heard about Lillian through our student Nancy Martinez and decided to join the April class. "I'm a housewife, part-time personal organiser and part-time fitness trainer. I love organising and cleaning the house. I feel that feng shui can be relevant to organising space and clearing space. I was at a friend's house when I heard about Lillian's methods in creating good energy in a home. That's why I signed up."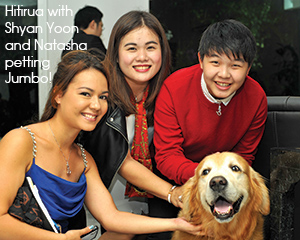 Shyan Yoon Teh
just completed a degree in Construction Management last year and attended the course with her cousin Natasha because her aunty Jackie sponsored her MPC fee. "I've been interested in all kinds of fortune things like feng shui, Paht Chee and Astrology since I was a young girl. When I was in Form 1, I bought a white crystal to enhance my studies and it really worked! I also did my degree thesis in feng shui!"
She believes in symbols too. "When I was a teenager, I learnt that my Paht Chee revealed that I would suffer a lot when I'm young. Things were bad for me until my dad invited a Laughing Buddha and placed it in the living room. Since then, everything became very smooth in my life!"
Shyan Yoon did extremely well in class- her group won FIRST PRIZE in the Case Competition! She was so grateful to her aunt for sending her to this course and feels that more young people should learn feng shui. "Perhaps Lillian and her team can design a feng shui workshop for younger students. The younger generation should really learn how to implement feng shui!"
Natasha Chan
(Shyan Yoon's cousin) is a bright young student studying in International School. Her mother Jackie, who owns the Murni chain of restaurants in KL joined us for MPC and MCC last year! After having such fantasti results with feng shui, she decided to sponsor Natasha and her cousin Shyan Yoon for this course. "I heard a lot about Lillian Too from my mom, and she really wanted me to come for this course as she thought it would be very good for me to have this extra knowledge!" After finishing the course, Natasha said, "I feel so lucky to know about feng shui at such a young age! I'm so glad I came!"

Maria Lorena
, a delightful Columbian lady married to a German expat lives in Malaysia. Maria learnt about the course from another friend who took the MPC last year. "I'm an architect, so naturally I'm very sensitive to energy and understanding of space and design. My interest in feng shui began long ago, and when my friend Nancy Martinez told me about her experience learning from Lillian, I signed up! I had no order in my life until Nancy helped me to identify my personal sector and optimise it." For Lorena, her favourite part of the course was "learning flying stars. Lillian is so generous, practical and vital!"

Samira Bandyopadhyay
, an advertising executive and film producer hails from Mumbai! She and her husband (a film director) shoots mini advertising movies for MNCs in India, and has worked with some of India's most creative minds and famous faces, including Shahrukh Khan! Samira's interest in feng shui was sparked after she moved into her new home. "After moving into my new house, I thought it would be good to get some proper knowledge on feng shui." By the end of the week, Samira was able to troubleshoot all the feng shui problems of her new home and make improvements. "The course was very simple and easy to comprehend. I love how the course is designed to teach so many formulas in such a short time! It has been a beautiful experience to have come here and become a part of this beautiful feng shui family!"

Wendy Poh
, Regional Manager of IKEA Singapore came to learn feng shui in the footsteps of her mother who became Lillian's student a few years ago. "Many many years ago I attended Lillian's first talk at the MCA building! It was out of curiosity that I came, but after the talk I encouraged my mother to sign up for Lillian's course. Since then, my mother Margaret has used feng shui for me and my sisters very successfully. Feng shui has really helped our family come up in life. Whether it was to find love, buy a home or just help a struggling family member overcome their difficulties, it worked for us. So I decided to come for the MPC to sharpen and enhance the limited knowledge that I have in order to carry on using this useful skill to enhance my family's life." Wendy was part of the team who took home first prize in the Case Competition!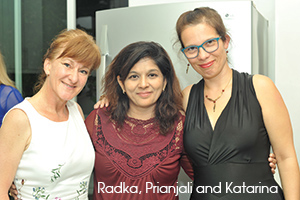 Prianjali Nagaskar
is also from Mumbai, India. "I'm an interior designer by profession and have been practising Vaastu Shastra for many years. Then I came to learn about feng shui. I've known and followed Master Lillian Too for many years and I have almost all her books!" For Prianjali, Lillian's feng shui methods has worked "100% of the time" for her and she came to learn more so that she could design better houses for her clients. "I feel I will be able to add something extra for my interior design projects and benefit my clients hugely. In benefitting them, I feel that I will get a lot of blessings and happiness through good karma!" And of course she's absolutely right! "I loved everything about the course and the fact that Lillian has a solution for every feng shui problem! It has been a wonderful week – learning has been so easy and fun. Anyone can apply it instantly without having to study too hard. Please keep having more classes with lots of new and ancient information, and of course, please keep writing these wonderful books with the self-explanatory pictures! It makes it so easy for people like me to follow and practise." Definitely Prianjali will do very well indeed, as her team took home the first prize in the Case Competition! We hope she will come back for MCC next year to take her feng shui studies to the next level!
Radka Alaksova
, from Slovakia came to learn feng shui from Lillian despite her limited English. She tells us, "I have lots of Lillian's books. I'm now a feng shui consultant in Slovakia and came to learn more. Lillian's energy is so lovely, I enjoyed this course very much. Thank you for this opportunity."
Katarina Kalviainen
, a Slovakian civil engineer living in Malaysia, heard about the course through one of her friends "I have a long term interest in Asian culture and all kinds of energy sciences. I heard about Lillian from my friends and found the magazine. I was very keen to come and learn more!" She became very close to Radka, who is also from Slovania.

Sophie Prowse
, who manages her family's childcare business in England (UK) just got married and had just come from her blissful honeymoon in Bali! She stopped by Malaysia before returning to the UK to attend the MPC. When we asked her how she heard about Lillian, Sophie says "I've always had a keen interest in Mind, Body and Spirit since I was in my teens, and this naturally led me to feng shui! And you can't not hear about Lillian Too if you're interested in feng shui! I'vee been reading a lot of her books for the past year and I'm here now, ready to take it to the next level." After a week of immersing herself in MPC, Sophie gained the confidence to practice feng shui! Her team even won 2nd Prize in the case study competition. "I loved EVERYTHING about the course – how it was structured, all the stories and the lovely people! Lillian are just fantastic people with such great energy. Lillian is such a fascinating lady and I'm so impressed that she was able to carry on through the pain she was suffering and still makes jokes and put a big smile on her face! Her approach is so easy to understand and listening to her is fun! I could listen to teach her all day! Thank you for being the amazing woman that you are, dearest Lillian!"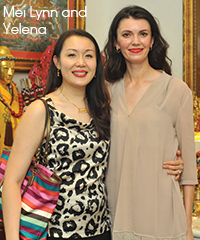 Huee Mei Lynn
, a Malaysian IT Director living in New York city enrolled in MPC to deepen her knowledge on feng shui. "I just LOVE Lillian Too as she has made the practice of feng shui available in English. I've been following her for years and have attended her feng shui talks every year since she first started giving talks!" When we asked her if she had any real life experience with feng shui, she explained "In 2004, my parents did a renovation in the five yellow location (something that Lillian has taught that we should never do). That year, all of us in the USA met with a huge accident, and it nearly cost me my life! Since then we never do things like that without consulting feng shui! I can't wait to get back to my New York apartment and make all the changes we learnt about in class!"
Yelena Topolskaya
(Kazhakstan) says "I'm an interior designer and I have been practising feng shui for 7 years now. I wanted to make my knowledge deeper and to be a feng shui master like Lillian." Yelena found the class very well organised and felt that it was crucial to feng shui practice. "This is a very good course that gives you a good base (foundation) to practice feng shui. Everyone wanting to learn feng shui should take this course. I want to thank Master Lillian for the deep information, useful knowledge and kind attention. I plan to come again one more time!"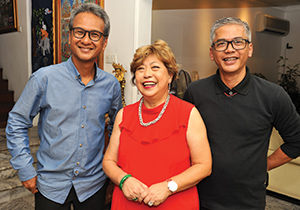 Ceri Wibisono
, a mining engineer from Indonesia came to learn feng shui so that he could improve his family life. "I came to learn about Lillian from the internet and also through a recommendation from a friend. I really believe that feng shui can improve my life and relationship with my family, and also increase wealth." We have great faith in Ceri being able to implement good feng shui for his family now. His team won first prize for the case competition!
Siting next to Ceri is
Hartantyo Pudjisantoso
who likes to be called "Harry". Harry is an architect and building manager, so feng shui is highly relevant to his profession. "I heard about Lilian from a friend, so I came to learn directly from her. What I liked most about the class was learning Flying Stars. Lillian is a very good teacher. She made it very easy to follow."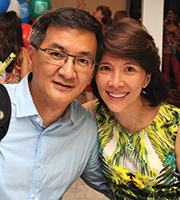 Here's our lovely Indonesian couple,
Lucy
and
Lim
, who signed up just a day before the course started! Lucy and Lim jointly own and run a hugely successful safety equipment and textiles business in Jakarta. "We know that Lillian Too is the best in feng shui and we've been reading her books. But somehow, even though her books are easy to understand, we didn't really know which formulas to use and how to apply it to our homes." After spending a week learning feng shui with us, Lucy and Lim was able to confidently apply what they have learnt in class to a complex floor plan. Their team even won 2nd prize in the case competition! "Thank you Mrs Too for inviting us to come for this course. We are so happy that we came! Now we know why you are so insistent on us fixing the Southwest location!"

Here's
Jurgen Preis
, our tall and handsome German expat working at the German Embassy in Jakarta. "I heard about feng shui from a feng shui consultant living in Jakarta a year ago. I decided to do research on the internet and I discovered Lillian's books and website." Jurgen came with the aspiration to learn enough feng shui to become a consultant and help others improve their lives. Jurgen's favourite part of the course: "I loved the good atmosphere and case studies! Lillian's approach is excellent – you can really see that she is a very experienced lady, and feel her motivated way of teaching. I want to personally thank Lillian and all the members of her team at WOFS! They were really very nice and so polite to deal with."
Samreet Rethavekar
, a delightful and bubbly Punjabi lady originally from India is now living in Canada. She came to learn feng shui so that she could improve the current situation in her life. "I've always been very lucky until recently. Everything in my life is so bad now since I moved into this new house! I just know it is because of the feng shui of my house, so I came to learn directly from Lillian to improve my luck!" Samreet was the first student in the class to show me her floor plan and we identified the problem immediately. "I'm really happy I came to this course to learn about feng shui, and also about the goddess Tara! I really feel so much more positive about my future now and can't wait to implement what we have learnt! Thank you so much!"

Here's the sexy
Ollga Bruell
, a financial planner originally from Russia but now lives in Berlin. "I became interested in feng shui from the Russian books written by Natalia Pravdina, and we know her teacher is Lillian Too! So I started learning feng shui from Feng Shui World and Lillian's videos. Feng shui has worked so well for me and my family – so I wanted to come and meet her personally, and also to gain some spiritual knowledge from this wonderful woman!" Ollga and her team won the 1st prize in feng shui, and tells us that the best part of the course were all the
secret knowledge
that weren't in the books. "The nuances (not written in the books), the real case examples and the site visits to real houses were the best! I don't have any suggestions for improvements – the course is perfect as it is! Lillian is a very good speaker and she mixes her knowledge with jokes and real life examples, so that you won't get tired of listening to her. It makes it so easy to absorb the knowledge. I can't think of a better way to learn feng shui!"
Noreya Bokhamseen
is a lovely teacher from Saudi Arabia. While she was in the USA learning English for eight months, she also became interested in feng shui. "I started reading about feng shui 6 years ago and I read Lillian's books. I can see how this can be useful for my house." For Noreya, the best part of the course was meeting Lillian and discovering a spiritual side to feng shui. "Lillian is just too good! I love her so much. And her energy is so clean and nice – everyone here is wonderful. Even though I come from a different religion, I can see how learning feng shui can be so good for everyone to know. It can be spiritual and this is something young people should learn."

We were very charmed by
Anna Aksentiva
who comes from Kazakhstan, but currently lives in Moscow. She was introduced to feng shui by her childhood friend Yelena. "The Year of the Horse was very difficult for me, so my friend Yelena advised me to work on my feng shui. I decided I had nothing to lose and tried it, and it helped me. I came to learn more about colours, shapes and working with feng shui energy so I can help people with their problems." For Anna, her favourite part of the class was the spiritual aspect of feng shui. "I really love Lillian's spiritual side. I can really feel that she does not do this for money – she is a very high level Master whose purpose is to help people. Thank you Master Lillian for sharing your knowledge, your experience and your energy!"

Juliet Tang
- This ever-youthful Malaysian/Singaporean lady (who looks 30 years younger than her real age) lives in Ecuador and runs a real estate business. "I always wanted to learn more about feng shui. I have seen my friends doing so well and always wondered if it was because of their use of feng shui, so I decided to enrol for this class since I was back here in Asia." She was completely blown away by everything she learnt. "All the stories and case stories really helped in understanding the afflictions! This course is perfect!"

From Mexico, we have this gorgeous VP of Compliance from JP Morgan, who finally signed up after years of encouragement from her sister!
Alejandro Merlo
says, "My sister invited me to take a course in feng shui 10 years ago! So I started with Lillian's online courses and read her books. My career really improved a lot since applying Lillian's feng shui! So I came to learn more!" Her favourite part of the course – "Learning the Luo Pan! Such a great feng shui tool with a lot of knowledge."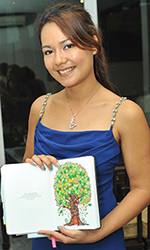 Hitiura Taeatua
(from Tahiti) won top prize for our feng shui planner colouring competition and 2nd prize in our case competition! Her interest in feng shui began through meeting her boyfriend of 8 years. "My boyfriend is from a Chinese family and is interested in feng shui, so I read up everything about feng shui – Lillian's books and applied the formulas. It worked so well for me! Today I work as a the Chief of IT Security for a Payment service provider – it is a very high position for a young person like me – and I really believe it was because of all the feng shui advice from Lillian's books! My career took off in a very short time after using the feng shui formulas." By the end of the course Hitiura felt a very special connection with Lillian and wrote a very touching note for Lillian - "Thank you so much for this amazing experience! I really admire your work, and this course was so well prepared! The lectures, stories, food, site visits, revisions in the morning! You inspire me greatly, so thank you for sharing all this information. You gave maximum commitment and devotion to your class - even though you were suffering from a cold arm you did your best to stay with us. You are a role model to me and I will never forget you and everyone in your WOFS team! Such an amazing bunch of people! Thank you for a wonderful week and I will come back again for sure!!"
Want to attend MPC?
Lillian Too's next class will be held on 26 September - 1 October!
Email courses@wofs.com for more information.