Lillian Too Holds Inaugural Master Class on Inner Feng Shui
March 2009 saw Lillian Too launch her inaugural new program on INNER FENG SHUI, a five day course on meditations, mind training, mental transformations, affirmations, visualizations and an amazing introduction to the 21 manifestations of the Buddhist Goddess TARA. FSW is proud and happy to publish these unedited comments from participants who came from around the world to attend. The class was kept small on purpose to ensure participants could all connect directly with Lillian.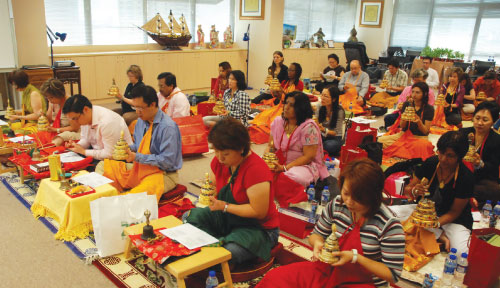 ---

The knowledge taught in this class is very exclusive! This course is crucial for feng shui practitioners. I am grateful Lillian did this course because she has the gift to transmit everything in simple words. I would come for this course under any circumstance because I value all the research and experience. To be here is a great honour for me. I wish I can transmit to other people and friends like Lillian did.
-- Carraz Lacramioara, China

---
I liked the Mandala Offering and the 21 Taras the most. Knowing that for whatever situation I am in in life there is a Tara that can be called on for help so wonderful. I will definitely recommend this course to my friends. I feel anyone who wishes to become a feng shui consultant will benefit a whole lot more if they involve the divine guardians. Lillian gives her all to everything she does. This course has definitely given me the inner strength I need. I am very grateful.
-- Bernice Keneuoe Tsapi, London

---
I liked the subjects taught very much, especially the new meditation systems, green Tara mantras and puja. This course is crucial to all feng shui practitioners. Lillian is always excellent!
-- Major Perera, Sri Lanka

---
This Inner Feng Shui Course completes what you need to know in Feng Shui practice! Lillian's approach is relaxed and knowledgeable. She is a walking testament to the power of Inner Feng Shui, whilst very humble with a great sense of humour. I came to this course to become better. I believed from the beginning and began to change from that time. I know I will become better and better and will be a very good feng shui consultant. Lillian is my inspiration. I can never "thank you" enough for introducing me to the Goddess Tara and for taking the time to know how "special" this course will be to making positive changes in the world.
-- Janice Collett, Australia

---
This course gave me the tools and understanding to ascend one more step on knowing myself. I thank God to have had the opportunity to attend this course. I am sure that I am not the same person that arrived in Kuala Lumpur on 21st March. Thanks to the entire WOFS group! Special thanks to Lillian!
-- Maria Celina de Castro Pereira, Brazil

---
I liked the subjects taught very much! Very interesting and eye-opening! I would definitely recommend this course to my friends especially those I wish to see succeed in business. This course improves one's confidence in feng shui practice. Lillian is very knowledgeable, with very vast experience in life, and she puts it in simple explanation to let us understand how crucial it is to blend feng shui and spiritual meditations in our everyday lives.
-- Sally Chua, Singapore

---
Meeting Lillian and attending this course is the best thing I could ever have done. It has affected me in a very positive way and I am sure my life is going to take on a whole new meaning after this!
-- Navniet Saine, India

---
The way the subjects were taught was good! Lillian explains everything very nicely and I like her warmth. This course is very important for feng shui practitioners; that's the main reason I attended this course.
-- Sunita Chillar, India

---
This course is vital for feng shui practice as it gives one an open mind and a positive attitude. Lillian helps us learn how to cleanse all the negatives from our mind through meditations. After this class, I know that whenever I encounter any problems in life or in feng shui, I can seek help from the 21 Taras through reciting their different mantras.
-- Germaine Chan, Singapore


---
I enjoyed learning how to be powerful with our own mind. This course completes all the other courses that I've attended with Lillian. Lillian's approach is unique! Only Lillian can teach the way she teaches! Once we have learnt all these techniques during this week, our outlook and behaviour in life cannot be the same. I feel like a different, beautiful, strong person on the 5th day – so much peace and joy within me that it is incredible and difficult to express. Thanks Lillian!
-- Vijayal Sunassee, Mauritius

---
LILLIAN'S RESPONSE

"Together the whole class created amazing spiritual energy, thank you all! I enjoyed teaching the Course so much, and I just know that every single one of you is going to bring an additional new dimension to your practice of feng shui, making you even more effective.
Thank you for your suggestions. We will implement them all. Definitely we will give you notes at the start of each day, include guided meditations in the afternoons and incorporate a meaningful pilgrimage at the second INNER FENG SHUI course. We will take you on a one night trip to Borobudur, the largest Mandala complex in the world. It has been amazingly restored by UNESCO and it is 1200 years old. And yes, we will have exquisite thangkas of Green Tara, as well as a full colour book on this fabulous Goddess and her 21 emanations."